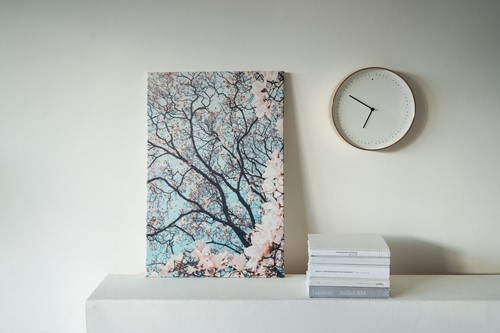 New home decor doesn't have to cost a fortune. In fact, there are plenty of chic and modern furnishings and accessories you can DIY. If you're trying to add some modern flair to a room with DIY decor, here are some ideas for projects to try:
Minimalist Wall Clock
If you want a stylish and modern decor that also serves a helpful purpose, crafting a minimalist wall clock is the perfect fit. Creating a clock sounds like a complicated and intimidating task, but you can purchase clock mechanism kits at any craft or hardware store. They come with detailed instructions and only require a few basic tools from around the home.
To make a modern minimalist wall clock, get a circular piece of plywood. You can paint it but the bare plywood grain will be perfect mid-century modern callback. Use a ruler or measuring tape to measure the circle and drill a hole in the middle. From that point, all you need to do is follow the included clock mechanism instructions. The best thing about this minimalist clock project is that you save a lot of time and effort by not including numbers on the clock face. You can of course add them if you prefer, but the blank style will make a bold modern statement on any wall.
Hairpin Leg Plant Stand
Hairpin leg furniture is modern style 101. You can buy hairpin legs unfinished (usually plain stainless steel) or in a variety of colors to suit your project. For the surface of the plant stand, choose a simple shape like a circle or square. Opt for hardwood in a natural finish but make sure you sand the edges for safety. Simply measure and drill holes in one side of the platform and attach the legs.
With this basic formula, you can make chic and modern plant stands in any shape or size to hold all of your favorite houseplants. For a more complex but equally stylish option, you can make a decorative planter by crafting a plywood box. Attach hairpin legs to the bottom and place your favorite plant right inside.
Honeycomb Shelves
Honeycomb shelves are all the rage among modern decorators and trend-setters and they have massive modern style. That style doesn't have to come with a large price tag, either. While you can buy expensive honeycomb shelves from vendors, you can make them yourself with a bit of basic carpentry.
Alternatively, you could make it even easier by using materials other than hardwood or plywood. One clever trick is to use stacked popsicle sticks arranged in a hexagonal pattern to create the open-box style shelf. All you need is popsicle sticks, wood glue and your choice of paint or stain. While this method won't allow you as much freedom when it comes to size (as popsicle sticks come in standard sizes) it's a quick and easy project you can do multiple times over to create a honeycomb-style wall art or display your favorite accessories.
These modern home decor ideas are easy to DIY with the right tools and guidance. You'll find that once you learn the basics, you can apply these ideas to even more unique crafting opportunities to give your home a personal touch.