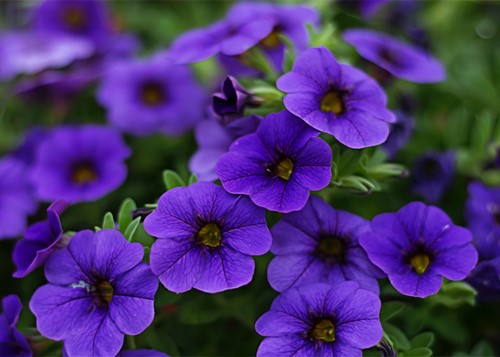 Plants can be the key to curb appeal. In particular, plants arranged around the front door can have an enormous impact on first impressions and can not only help sell your home but impress your guests. With all the details of landscaping design and varieties of plants, it's difficult to know what will make the biggest difference. To help, here are some suggestions for front door and porch plants to make a good first impression.
Petunias
Petunias are a classic and well-loved flower choice for home gardens and commercial spaces. They come in such an array of vibrant colors that you can create your own color palette or go for large amounts of the same color for a bold look. Try planting petunias in hanging baskets on either end of the front porch to frame the entryway with color.
English Ivy
There are few plants that create a more classic feel than English ivy. Whether it's cascading out of a hanging planter, growing on a trellis or even climbing up the walls, ivy adds instant charm to any home no matter the architectural style. What's better is that it's a very hardy and forgiving plant and does well in combination planters with others. You can mix English ivy with flowers or ornamental grasses for a multi-dimensional look that keeps the attention.
Citrus Trees
Miniature citrus trees make excellent front porch plants when grown in pots. Lemons, limes, grapefruits and oranges all come in dwarf varieties that stay small and keep to the scale of your entryway. While larger citrus trees are best for warm climates, potted citrus trees can come inside for the coldest parts of winter, making them excellent options for year-round decoration and natural beauty.
Boston Fern
Boston ferns are voluminous and eye-catching in any context and work especially well beside your front door. Try hanging Boston ferns from baskets or attaching them to the wall so that their long and elegant fronds can hang down. You can also opt for tall, narrow pedestal style plant stands to turn the fluffy foliage into an architectural statement. Ferns do best in high humidity and shade, so make sure you place them accordingly.
Cactus
A slightly unusual option, a large cactus can make a bold statement and capture any visitor's attention. With or without flowers cacti have plenty of aesthetic appeal through shape, color and size, ranging from tiny to 10 feet tall. For a cactus with lots of character, look for a mature bunny ear cactus. Christmas cacti produce beautiful flowers in the colder months and make striking additions to hanging planters or pedestal stands.
No matter what type of plant you keep outside your front door, you'll enjoy the benefits of keeping a piece of nature nearby.