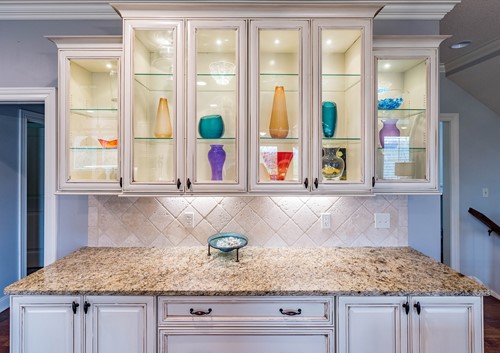 When you're building your own kitchen cabinets, you'll find that there are several design options to consider. One of the main decisions to make is whether you want framed or frameless cabinets. Framed cabinets are the traditional type used in many homes, while frameless cabinets are commonly used in more modern or contemporary designs. Framed cabinets have frames built around the doors and cabinets. Frameless cabinets have doors that are attached to the cabinet box rather than to a frame. Knowing the differences between these types of kitchen cabinets can help you decide which to build in your home.
Appearance
When choosing between framed and frameless DIY kitchen cabinets, consider their appearance. Frameless cabinets can give your kitchen a more streamlined, cleaner look, since there are no frames surrounding the doors. You might choose this option if your kitchen has a contemporary or modern design. If you're looking for a more decorative style, framed cabinets might be a better option. Framed cabinets have several design options available, such as decorative doors, raised panels and full overlays or semi-full overlays.
Interior Space and Access
The amount of space available and the accessibility of framed and frameless cabinets can be a deciding factor in which to build. For example, framed double cabinets have a stile in the center that can make it harder to take items in and out. With frames around the cabinet box, the amount of space inside might also be less overall. Frameless cabinets don't have stiles or frames, which can make it easier to take items in and out. You should also have more space to store items in frameless cabinets.
Installation Process
The building and installation process for framed and frameless cabinets can differ. When you choose framed cabinets, you'll need to build the frame and add any decorative features you want. If you choose frameless cabinets, the building process is a bit more straightforward, since you don't need to include framed pieces. Keep in mind that installing framed cabinets requires using longer screws, while frameless cabinets can be installed with shorter screws.
Durability
Framed and frameless kitchen cabinets sometimes differ in terms of durability, although this can depend on the materials you use, such as the thickness of wood. Frameless cabinets tend to be made of sturdier or thicker pieces, since they don't have a frame to support them. Framed cabinets might have thinner pieces of wood inside the cabinet box with thicker pieces for the exterior frame. You should avoid building frameless cabinets on uneven walls, since they can end up becoming warped. However, framed cabinets aren't at risk of warping on uneven walls, so keep this in mind when choosing which type to build.